AMT8 RS232 Wiring

When Apple bought Emagic they discontinued the AMT8 MIDI interface but you can still find them second hand.
They can be connected by USB or serial cable (serial cable has the advantage of longer cable runs) but beware, the serial cable required isn't a standard Null Modem type cable and you wont be able to buy a ready made cable off the shelf. Perhaps the easiest way to make your own is to buy a Null Modem cable, cut one end off and rewire the end you cut off so that it corresponds with this diagram: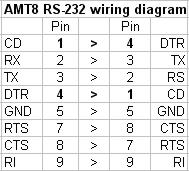 Pin numbers are normally embossed into the plastic next to the pins; you may need a magnifying glass to see them.
AMT8 Windows driver files for download from this site unidrv227.zip (239kb) or from Apple: http://download.info.apple.com/Apple_Support_Area/emagic/Driver_Files/Windows/
Some forum discussions relating to AMT8 USB and/or serial connection problems
http://www.nuendo.com/phpbb2/viewtopic.php?p=140795&sid=e44b358bb806eb58
http://www.northernsounds.com/forum/showthread.php?t=60191&highlight=AMT8
http://www.gearslutz.com/board/music-computers/367286-another-unitor8-serial-rs232-xp-thread-how-do-i-choose-port.html