Notes and Frequencies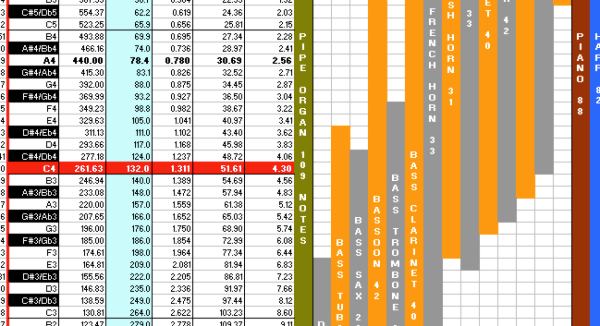 An Excel spreadsheet showing: note number, scale, frequency, wavelength (in centimetres, metres, inches and feet) and instrument ranges.
Download Notes.xls (153kb) or download a 15kb single page PDF version
(a couple of small errors had crept in, new versions uploaded 07 August 2007)

Bolt's Ratios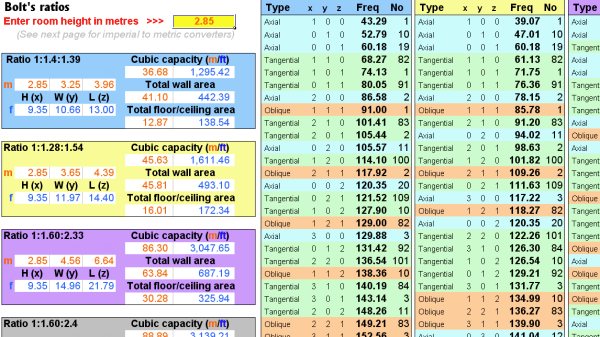 By entering just the height (in metres) of a proposed room in cell H2, this spreadsheet calculates: room width and length, cubic capacity, total wall area, total floor and ceiling area for four Bolt's ratios; results displayed in both metric and imperial.
The right hand side shows the mode type, number, frequency and distribution of 999 modes for each of the four ratios. Page two contains various imperial and metric converters.
This spreadsheet is for proposed rooms, ie before building; it is not appropriate for existing rooms (see spreadsheet below). Download Bolt's ratios.zip (176kb)

Room Modes Calculator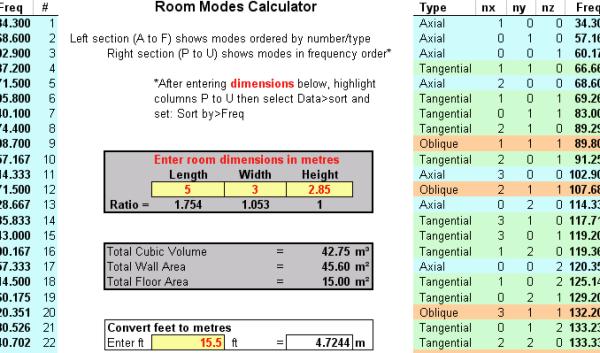 Enter a room's Length, Width and Height in metres and this spreadsheet calculates the first 999 modes. Includes a handy feet to metre converter. Also calculated are: room ratio, cubic volume, wall and floor areas. Download Room Modes2.xls (462kb)

Bandwidth to Q
/

Q to Bandwidth converter

<![if !vml]><![endif]>

A self explanatory 23kb Excel spreadsheet download
Made as part of the Elemental Audio Systems Firium and Eqium review posted here

Nishikigoi Varieties is a 90 minute visual bonanza of beautiful koi carp…read more


PSP Audioware MixPack Review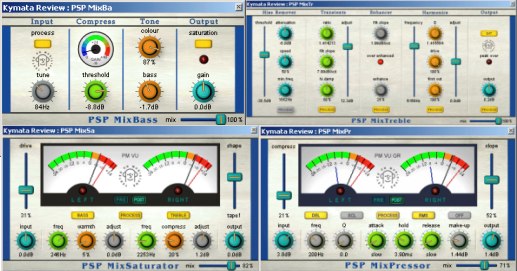 Version 1.7 review posted here and here

Elemental Audio Systems Firium and Eqium Review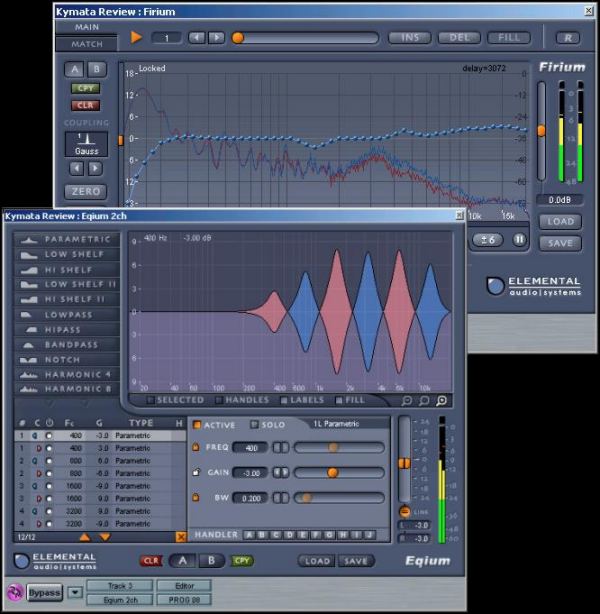 Version 2.0.2 review posted here and here
NEWS, May 2006: Sadly, Elemental Audio plug-ins are no longer available at their previously reasonable prices. They are now being sold by Roger Nichols Digital at FOUR TIMES the price! That's not all; further details in this SOS thread

Desktop Shutdown & Restart shortcuts tip

Instead of clicking Start, Turn Off Computer, Turn off (or Restart ) you could have shortcuts on your desktop to do the same jobs.
Here's how. Right click on the desktop and select New, >Shortcut. In the shortcut wizard box that appears type (or copy and paste) SHUTDOWN -s -t 01
Click next and give the shortcut a name, shutdown is good

For the Restart shortcut, repeat but this time insert the text SHUTDOWN -r -t 01 and name it restart.
After creation, right click the shortcut, select Properties, Change Icon… and choose a suitable icon.

Oberheim MC2000EX Logic Environment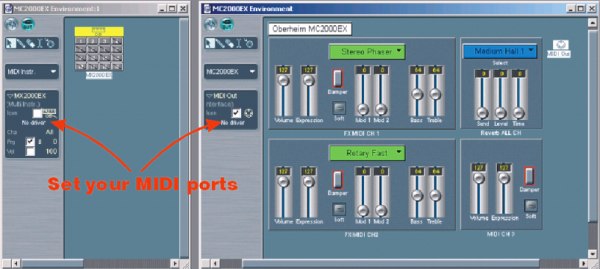 Description
Control of the Oberheim MC2000EX master keyboard's onboard OP-1 from Logic.
This Logic environment enables the selection of both reverb and effects from the green and blue drop down menus; faders below adjust their respective parameters. Also Includes: expression and volume faders, damper switch, soft pedal switch and EQ faders.
Also included is a multi instrument object with the three MIDI channels activated and patch names. Bank one provides stereo patches and bank two mono.
This environment was constructed using Logic version 5.5.1 on a PC. It has not been tested on a Mac but it should work.
Structure of the OP-1
There are two effects blocks operating on sounds selected on MIDI channels one and two, they do not affect channel three, the bass sounds. If required, bass sounds can be used with effects provided the sounds are selected on channel one or two. Reverb is global.
Download MC2000EX.zip (45kb)
Instructions
Import (or copy and paste) the environment into your Autoload.lso. Set your MIDI ports to the ports the MC2000EX is connected to as indicated in the screenshot above.

Real-Time Jam Sessions in Logic
"Learn how to set up Logic's Environment so that you can jam with other musicians in real time on a single system."
A very useful Logic environment made by Ingo Vauk for the Mac version of Logic and adapted by me to work on the PC version.
Both the Mac and PC versions may be downloaded via the links at the bottom of the Sound On Sound Logic Notes Item

Disclaimer
I place these files in the public domain without warranty and they are used at your own risk. They may be freely copied and distributed but remain © Tim Rainey Kymatasound 2006