Electronics
A formal education in electronics will - unlike electronic goods themselves

- never let you down.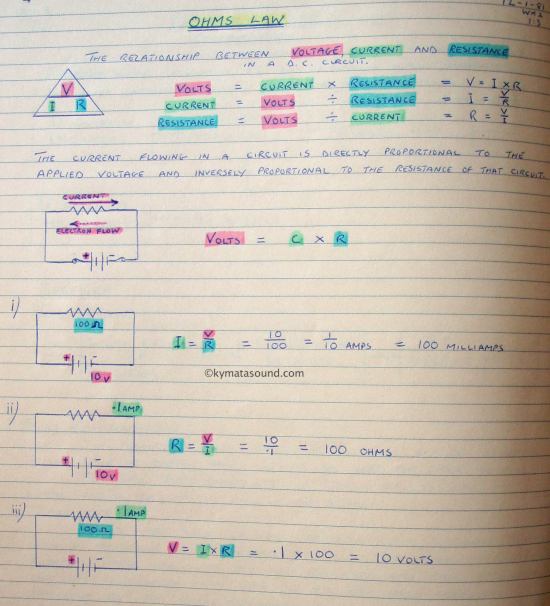 Ohms Law page from my 1981 college note book
I gained my first City & Guilds electronics engineering qualification by doing day release (1970/71) at Paddington Technical College in London. This was in the days just before the silicon chip. All electronic goods of the time were made from bulky discrete components: resistors, transistors, diodes, capacitors etc:

My employer at that time was Olympia Business Machines and I worked as a trainee engineer servicing their limited range of desktop calculators.
Due to their all discreet component construction, desktop calculators of the time were large machines full of slot-in circuit boards in a metal chassis sitting under the bulky mechanical printer readout. These heavyweight machines could only do the four most basic mathematical functions: addition, subtraction, multiplication and division, that was it! They didn't posses memory either.
Later in 1971, Olympia released the first desktop calculator built with chips. This new machine was much smaller and lighter than the previous models. That was partly due to the fact that, rather than a bulky mechanical mechanism printing onto paper, it employed a multiple array of 7 segment valves (tubes) to display results:

Things we take for granted these days such as the pocket calculator and personal computer were of course yet to be invented. Talking of computers, my first was the Sinclair ZX80: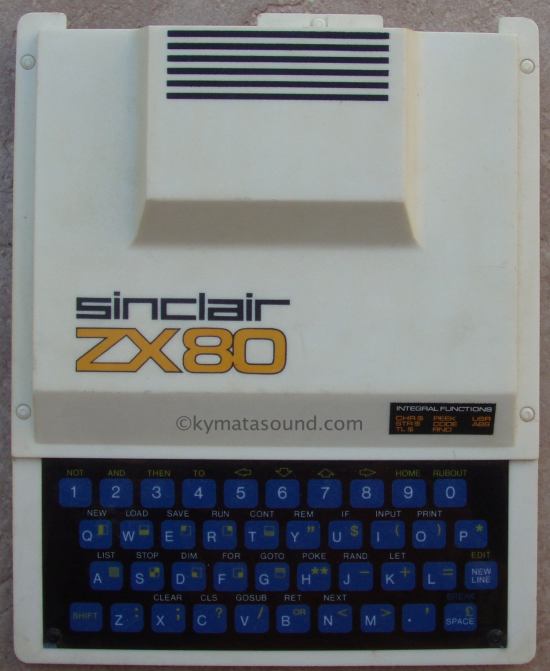 I must plug it n one day and see if I can still remember how to program in BASIC
Further Education
After a ten year break from electronics - some of that time spent flirting with the music business - in 1981 I attended Perivale Skill Centre (West of London) where I studied full time for part two of the Radio & TV Electronics Engineers City & Guilds certificate.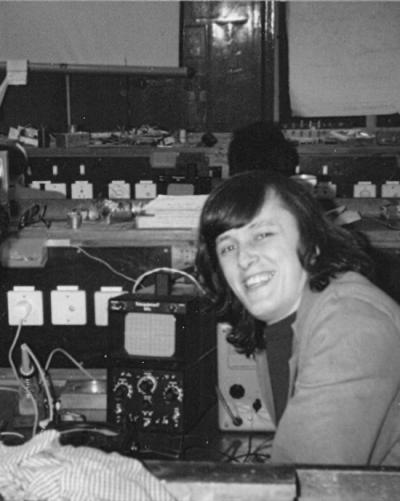 In spite of the haircut, I passed with distinction, in part due to the fact that I was the only one in the class to solve a set problem. The problem the class had been set was to design a 7 segment display driver using only discrete components; apart from the 7 segment display itself, we were not allowed to use chips. I proposed a theory and wrote it up in my notes: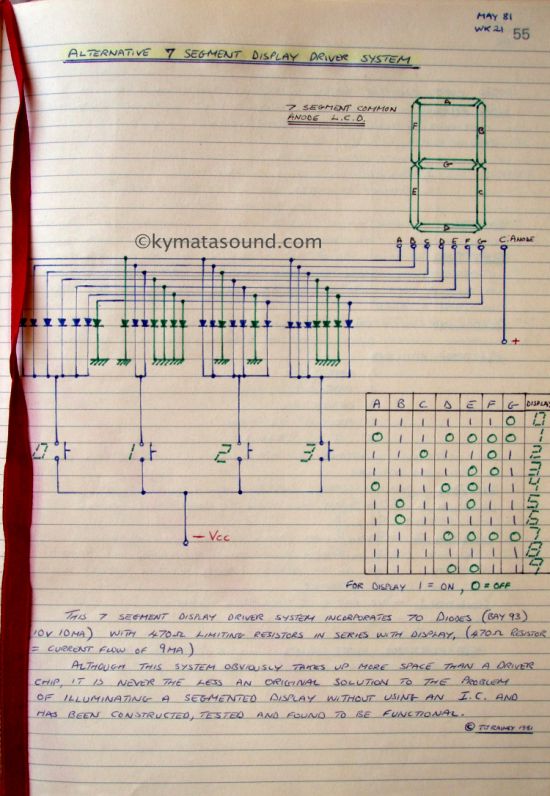 To prove to the lecturer, class and myself that my theory was correct, I knocked up a working model: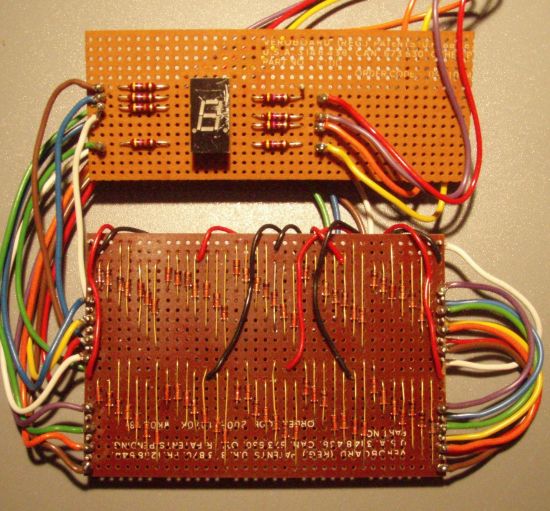 We also had to design, build and test other useful circuits: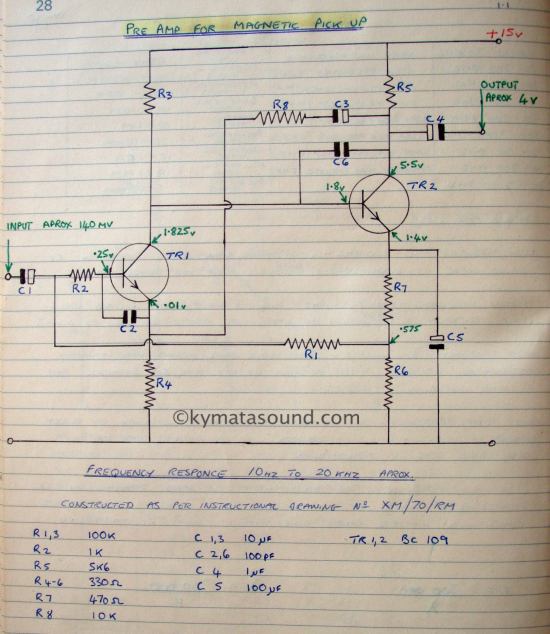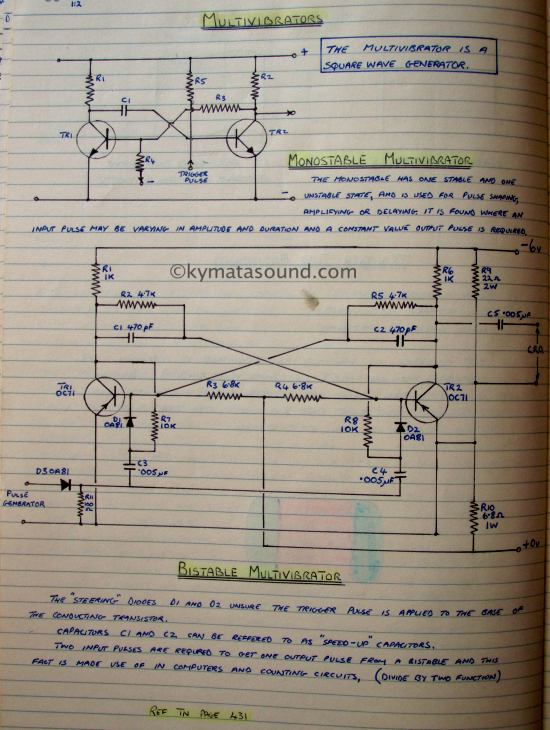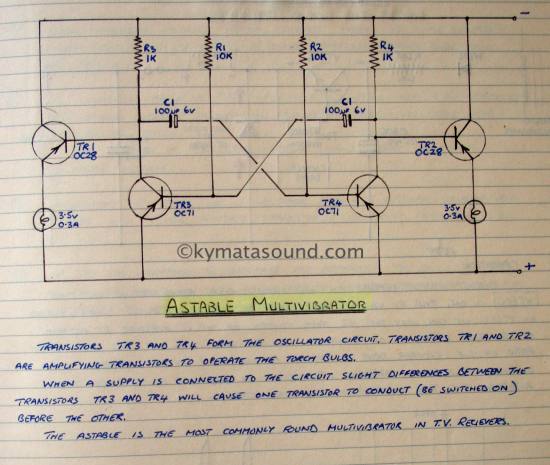 I worked for a further ten years as an electronics service engineer specialising in video and audio equipment but, these days, I generally only maintain and repair my own equipment.
©Tim Rainey 2008
Shameless plug:
Nishikigoi Varieties is a 90 minute visual bonanza of beautiful koi carp…read more