HDR Reviews
Rather than reinvent the wheel, if you don't know what HDR (High Dynamic Range) photography is, read what Wikipedia has to say
In my search for an HDR processor I tested three out of the many available applications: Easy HDR Pro Artizen HDR and Photomatix Pro
My main criteria for photo processing software are: quality of results, speed of operation and ease of use. Since I was only looking for an HDR processor, I tried (but not always successfully) to ignore any other attributes the different applications offered. The screenshots below show each application's default results after merging three images; of course there is huge scope for adjustment.
Easy HDR Pro 1.50.2 – Price 30 Euros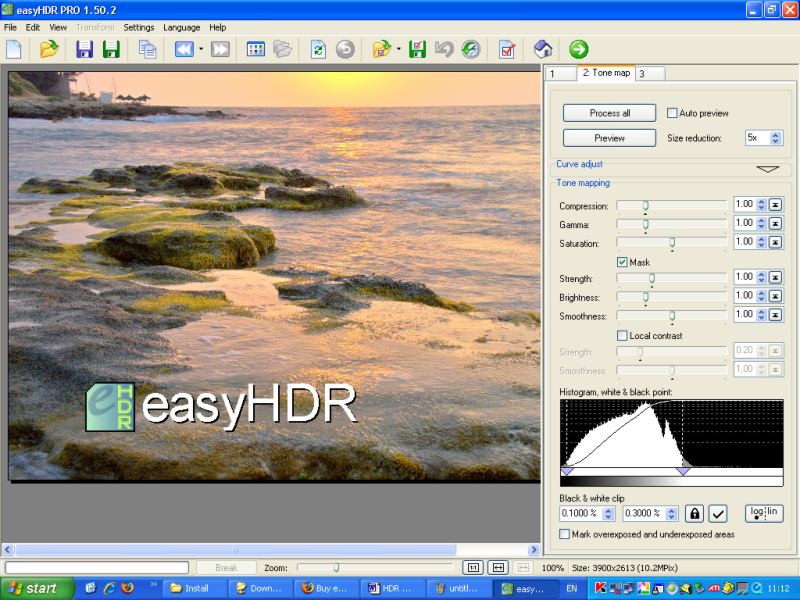 Loading times:
2mins 8sec to open 3 NEF (RAW format 0, -2 and +2EV) images*
1min 11secs to 'Generate HDR' to produce the workable image.
*Part of the reason for the lengthy loading time is because I had to click through dialog boxes as each picture was loaded and the clicks were unresponsive, ie the action was delayed by several seconds.
After generating the HDR image (more than 1min) and to further manipulate the image you have to click the 'preview' button after making each adjustment; you will probably want to make lots of adjustments too so it's very time consuming. That's a shame because other than that I liked the clean and simple interface. Easy HDR doesn't remember the last folder visited.
Artizen HDR 2.5.36 – Price 45.95 Canadian dollars

Loading Times:
38secs to open 3 NEF (RAW format 0, -2 and +2EV) images.
13secs to 'Merge to HDR' to produce the workable image.
Rather a lot of wasted screen real estate making the all important image window small. Trying to be much more than an HDR processor and not doing the other jobs very well; sharpening is dreadful. Generally I felt it had a rather amateur feel but it does remember the last visited folder.
Photomatix Pro 3.0 – Price 118 US dollars (standalone or 82 as Plug-in)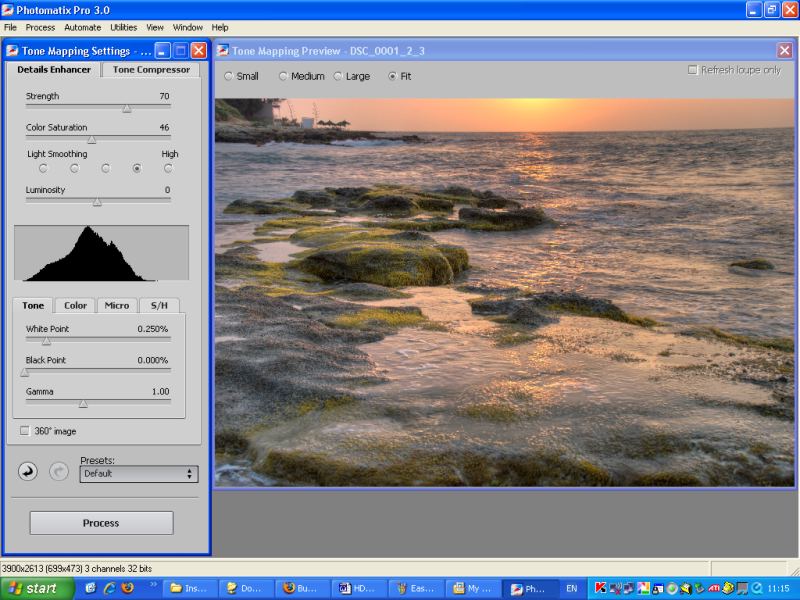 Loading Times:
37secs to open 3 NEF (RAW 0, -2 and +2EV) images.
4secs to 'Tone Map' to produce the workable image.
Of the three I tested, this is the quickest and defaults to a more photo realistic output. It also auto updates the image after adjustments too. Photomatix remembers last folder visited. It has the highest price tag but it satisfies my three main criteria of quality, speed and ease of use so that is the one I purchased.
Results
Although with RAW files it is possible to use just one image to generate a composite HDR result, it is generally better if you take two or more shots of the same scene and adjust the exposure in camera. If shooting JPG, then it is essential to shoot a minimum of two images. For this particular example below, I shot two frames without a tripod and the Photomatix option 'align source images' automatically took care of the small differences in image alignment.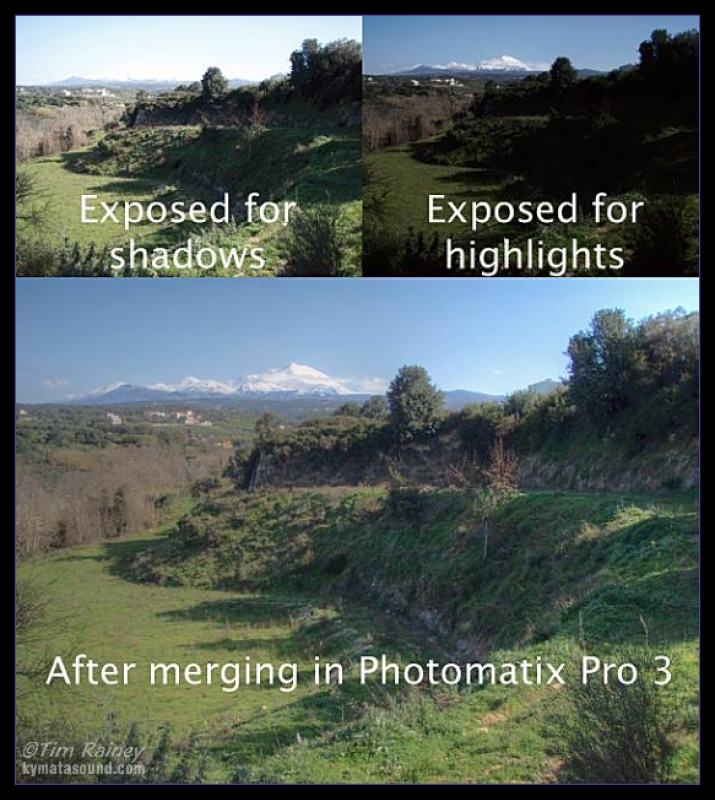 Photomatix has done a great job of producing a realistic image that is very close to how the naked eye perceives such a high contrast scene.
There are some more results on my photography page
My test PC details:
Fujitsu Siemens laptop with 1.73GHz Intel Pentium M processor, 2GB of RAM running Windows XP Pro SP2 at 1,024 x 768 screen resolution.
Application home pages
Fully working* trial copies of all the above applications can be downloaded for evaluation from the following locations:
Atrizen http://www.supportingcomputers.net/Applications/Products.htm
Easy HDR http://www.easyhdr.com/purchase.php?v=1.50.2
Photomatix http://www.hdrsoft.com/order.php When purchasing, If you enter VPG8 in the 'Coupon Code (Optional)' box of their order form you will receive an 8% discount (as of August 08)
*as can be seen from the above screen images, a watermark is included on the trial version output
©Tim Rainey 2008
Shameless plug:
Nishikigoi Varieties is a 90 minute visual bonanza of beautiful koi carp…read more